Bose Stand Alone Speaker Home 500
The market for smart speakers is growing rapidly, with more major players entering the ring every season. With the number of options steadily increasing, deciding which product is right for you can be hard. This time around, the new entrant is a Bose stand-alone speaker. In most cases, all a speaker needs to do to be a quality buy is to play music well and to play it loud. When you're talking about a smart speaker though, things can get more complex than that. It comes down not only to how well it plays music, but how good it looks, how well it can pick up your voice commands, and the other features it can bring to the table to make it another great smart appliance for your home.
Bose is very well known for their years of expertise when it comes to audio equipment, but the question that needs to be asked is whether they can bring that and more to the smart speaker game. After all, options like the Amazon Echo and the Apple HomePod are more popular, but does that mean they are better? Let's dive right into that.
At A Glance
Bose has been producing high-quality audio equipment for over 50 years now, and you can expect the same with the Bose Home Speaker 500. This Bose stand-alone speaker produces pleasing sound from its two drivers encased in a gorgeous body, which will fit nicely into almost any home.
You get multiple options to control the speaker with, be it touch or voice; and if it is voice, Bose gives you the choice between two excellent virtual assistants: Alexa and Google Assistant. And I haven't even mentioned the advanced microphone array that this speaker carries, that allows you to communicate with it clear every time, even when music is playing. There is no shortage of connectivity options either as you can play via Bluetooth, Wi-Fi, or even a 3.5mm auxiliary input.
Design and Build Quality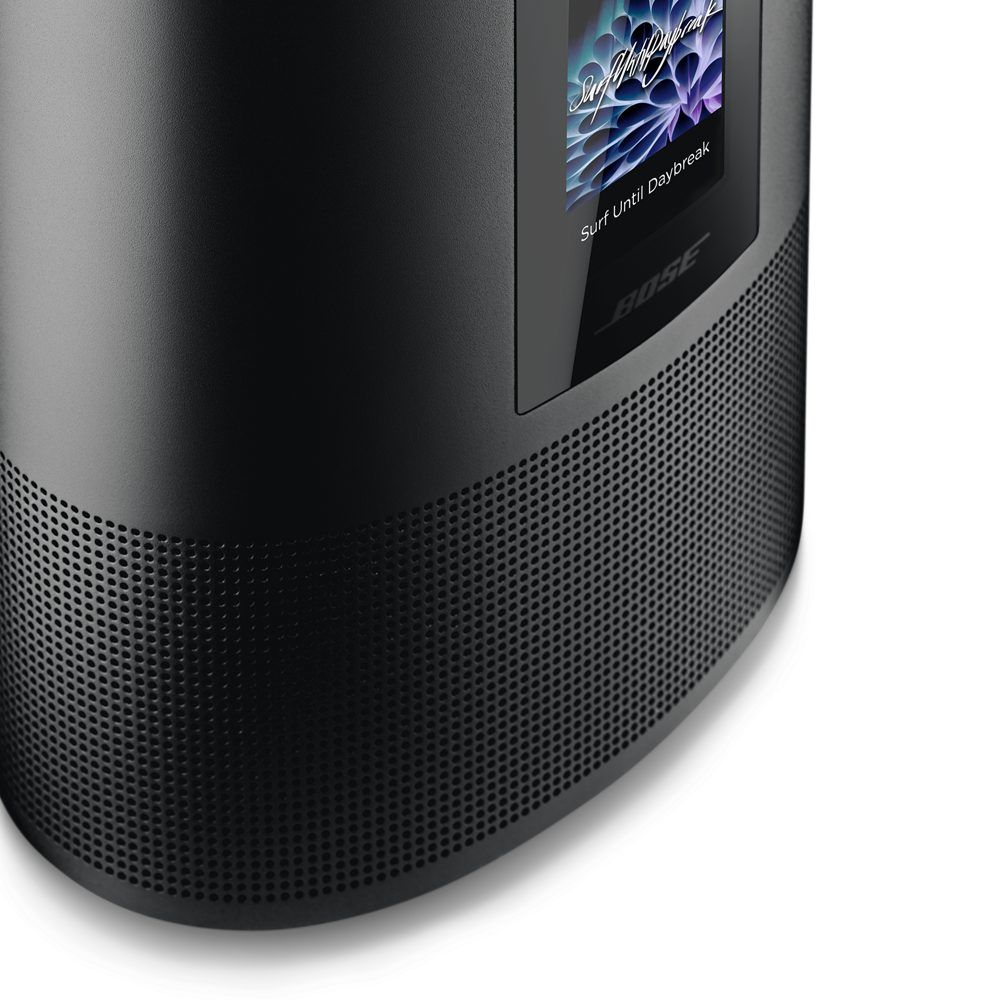 Regardless of which of the two colors you decide to get the Bose Home Speaker 500 in, you are guaranteed to have a gadget which will catch the eye of all your guests and visitors. You can get it in either the stealthy Triple Black color, or the clean futuristic Luxe Silver finish. Either way, the build quality is top-notch as is expected, and you'll definitely be pleased. It's a gorgeous speaker, and even though I feel the LCD display detracts a little from its beauty, I would rather have it there.
The speaker grille is a series of perforations that wraps around the entire bottom half of the seamless aluminum frame of the speaker. The look works well for this, and it really helps it nail that premium look that it has going so well for it. Considering the price, such good looks are to be expected.
The top of the speaker is very mildly domed, and it houses all the touch controls for the smart speaker. You still have the option of using the Bose app or voice commands, but if you happen to be close enough to the speaker, you can use the touch panel to control your music, turn off the microphones, toggle Bluetooth or auxiliary input, and even select one of the 6 preset buttons. The bottom of the Home Speaker 500 is rubberized, which I think is quite necessary for any smart speaker. It does the job here and completely prevents the whole thing from rattling across a surface when blasting music.
Sound Quality
Although sound quality isn't the sole criteria for selecting a smart speaker, it is probably still the most important one. Sure, there are other reasons to get a smart speaker beyond sound quality alone, but it is probably still going to be playing music a lot, and because of this, how it sounds always needs to be a massive consideration.
One of Bose's selling points when it comes to this speaker is the wide sound-stage it is able to simulate due to the two custom drivers inside producing the audio. One of them points to the left, and the other to the right. There's no front facing speaker here, and as a smart speaker, that can be excused, as its positioning in the home might not be entirely for the purpose of music consumption. The idea behind the placement of the drivers is to have the sound bounce off the walls which straddle the Home Speaker 500 and fill the space with what seems to be a much wider soundscape. The problem with this is that the positioning of the speaker matters immensely. If you don't give it walls which are close enough to take advantage of, you won't have much good to say about their claims. However, in the right spot, it is really able to simulate that wideness, though a set of two speakers will always be superior in that regard.
This Bose stand alone speaker is loud. If volume is a concern of yours, then you really do not need to worry. The absolute magnitude of the sound that this speaker produces is ear-shattering. I found it almost impossible to crank the speaker up to its maximum, and half of that tended to suffice beautifully. The speaker is loud, that much you can be assured of, and it somehow manages to avoid any ungainly distortion at the peak volumes.
When it comes to the actual sound performance, the name 'Bose' printed on this is enough of a testimony to that. The Bose Home Speaker 500 is generally pleasing in its sound reproduction. Overall, I would tag the sound quality here as 'balanced'.
Despite not having a dedicated subwoofer, the bass and sub-bass is quite deep and pleasing. It is a more realistic, grounded reproduction of bass than you would get with brands like Beats. It depends on what kind of music you listen to however, because this type of treatment for the lower frequencies is not everyone's taste. The low-end in most songs I listened to here came out in a very satisfying manner, and I only noticed what sounded like the case vibrating on rare occasions. The mids and highs here come out nothing short of deliciously, with very rich, clean reproduction with vocals and stringed instruments like violins and guitars. Perhaps the high-end could come out a little cleaner, though you can make some adjustments to the Equalizer in the Bose app.
Hip-hop tracks I listened to benefitted from the throaty low-end, though it might have felt a bit better with that bass enhancement that other manufacturers like to opt for. Live rock tracks sounded amazing, and orchestral arrangements really managed to shine bright through the speakers. Vocals in general are reproduced nicely, and listening to almost any kind of music is a great time on this.
Connectivity and Features
In terms of connectivity, the Bose Home Speaker 500 covers all bases that you expect from a speaker of this price. Bluetooth 4.2, auxiliary input via 3.5mm jack, and it can even be connected to your home Wi-Fi network for easy control between multiple devices.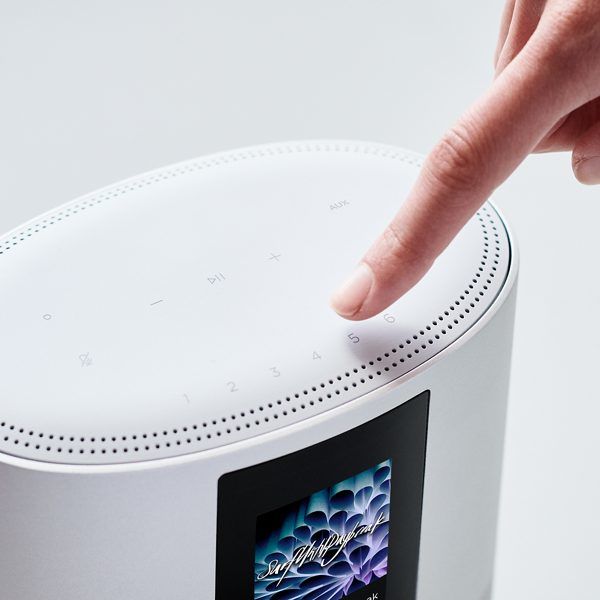 The Home Speaker 500 can be controlled with the touch panel on top of the speaker, by using the Bose application, or via Amazon Alexa and Google Assistant. Even when you're blasting music, it's super easy to call Alexa or Google's attention, and this is no thanks to the outrageous eight microphone array laid into the top of the smart speaker. Even when you think there is no way it should be able to hear you, it still does. That's the Bose expertise shining through there.
The capacitive touch panel up top isn't just for the bare minimum either. I found the six preset buttons to be one of the coolest features here, and I wish other manufacturers would adopt it. You can set a button to your favorite playlist or radio station, for instance, and access it with a single press of a button. It's super convenient, and it made my workout mix super easy to access.
There's a tiny LCD screen on the front of this Bose stand alone speaker, and while it is useful to view album art or if you are listening to music you don't know, I could imagine a lot of people opting for it removed if it means a lower price tag. It's a small display, with a low resolution, and no touch capabilities. At its price, you'd expect better.
Conclusion
In the end, the Bose Home Speaker 500 is a strong contender in the smart speaker domain, with a gorgeous design and amazing audio quality, as expected of Bose. However, the low-quality display and the high price tag make this a hard device to recommend straight up. For two-thirds of the price, it would be easier to speak in favor of this device. Overall, this Bose is a beauty and it is only struck down by that price tag.