Mid Range Record Players (400 – 800 USD)
For vinyl lovers upgrading from a budget turntable, a mid-range offering is best. It will provide a perfect balance between musical quality and convenient features with a sensible price.
The absolute top-end of record players is typically reserved for dedicated audiophiles. If you're trying to see how close you get to that though, a mid-range turntable will work great in testing the waters. Even for rookies in vinyl, a mid-range turntable can make a good purchase to start off with.
In fact, a mid-range turntable can show the quality that you'd expect from a higher priced model. The demand for vinyl means that manufacturers are putting in more effort and being more competitive in making the machines. More competition means lower prices and more value.
If you're on the lookout for a record player that fits snugly into the mid-range in terms of quality and price, then you've come across the right article. I'll take you along with me in showing you around 5 of the best options for mid-range turntables at the moment.
Each one has its pros and cons, so while there's no such thing as a perfect product, you'll find one that's perfect for you here.
Rega Planar 2
Pros
Sound quality is superb
Minimalist design is stunning
High quality build
Hassle-free setup
Cons
Manual speed control can be annoying
The modern age has brought minimalism in as a major facet of design. That plays out in such an exquisite manner when it comes to the Planar 2. Honestly, the first thing that came to my mind was how sleek and clean it looked. I realized that it was the lack of buttons on the top surface or edge of the plinth that gave it such a classy appearance.
You may be familiar with the Rega Planar 1 or the original Rega Planar 2, launched all the way back in 1976. If that's the case, then you'll be glad to know that this one improves upon that formula in pretty much every regard.
For a turntable, the sound is where it's at. Once appropriately amped, the tone that comes out through this is well-balanced and quite powerful. It reproduces every aspect of the musical spectrum with the deftest hand. While the design might be minimal, the audio quality pushes everything to the max.
It comes with a new low-noise motor that operates the platter quietly, allowing for the greatest enjoyment of your music. The new tonearm has high build quality too, so it glides cleanly through the record's grooves.
Whether purchasing this as a newbie or just looking for an upgrade, set-up is far from complicated. Apart from the manual speed control and getting the tonearm weight perfect, this shouldn't give us vinyl junkies much of a hard time.
Pro-Ject – Debut Carbon Esprit SB
Pros
Electronic selection of three speeds
Multiple color options
Setup is easy
Cons
Some users report a humming coming in with the audio
Similar in design to the Planar 2, Pro-Ject's Debut Carbon Espirit SB doesn't carry the same level of sophistication as its competitor. There is a clump of buttons at the bottom left corner, which contributes quite a bit to it losing out on the design scale.
Unlike the Planar, it has electronic speed selection as opposed to a manual dial for that purpose. This makes it rather easy to play at any of the three major rotation speeds. 78RPM will need a little more work though, as the belt will need changing.
Set-up is uncomplicated with this turntable. Sorting out the anti-skate weight will likely be the most difficult part of setting this up.
You won't get a phono pre-amp built-in here, so have your own at the ready. Once sorted out, the sounds that this produces is nothing short of astounding. Even at lower volumes, it blessed me with immense detail. It only faltered when it came to timing, and not that bad even then.
All the components are together responsible for producing its warm sound. It has a heavy acrylic platter that will rotate smoothly. Along with the belt drive and rubber feet, it keeps resonance to the absolute minimum that it can achieve.
Audio-Technica AT-LP7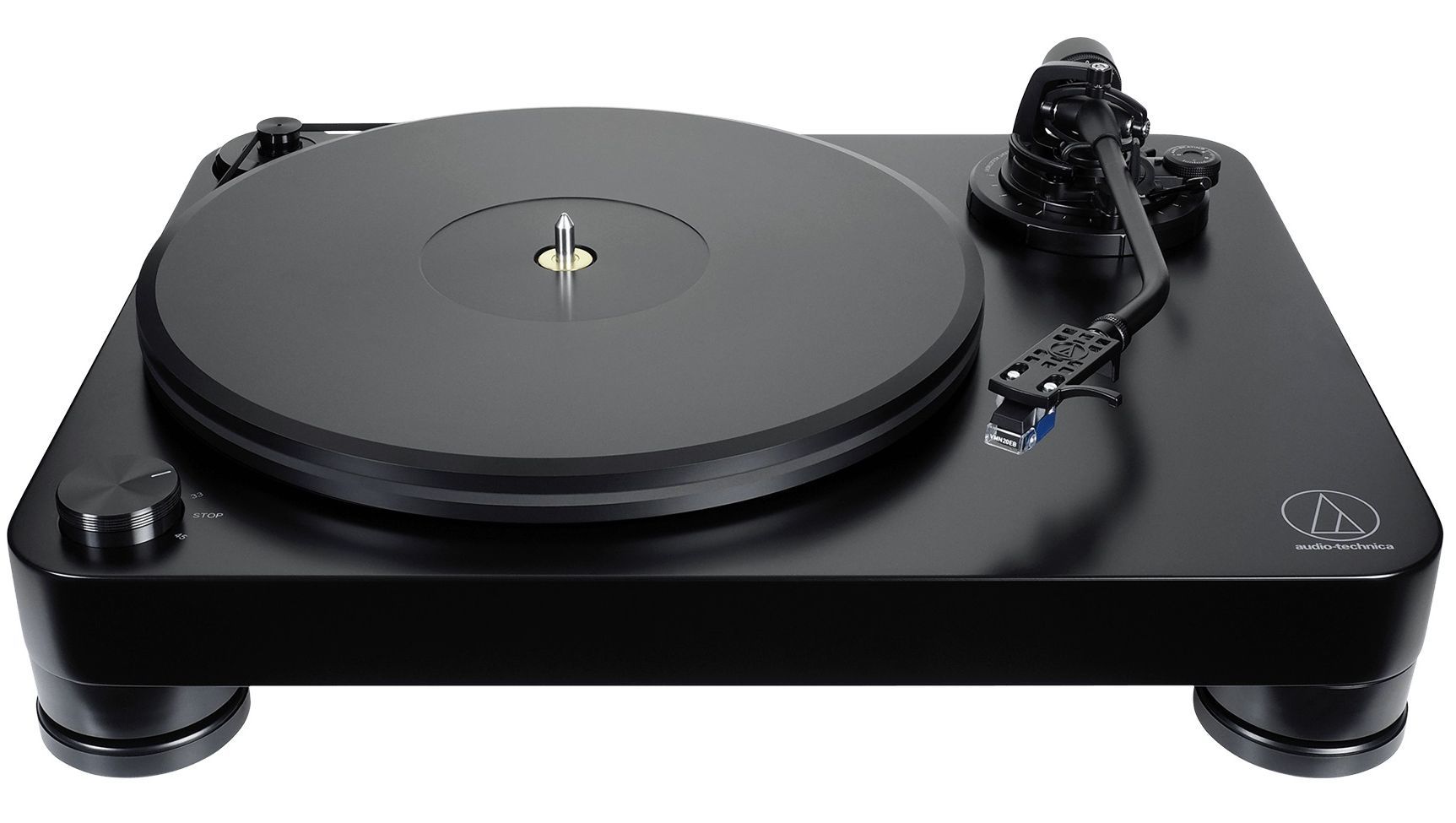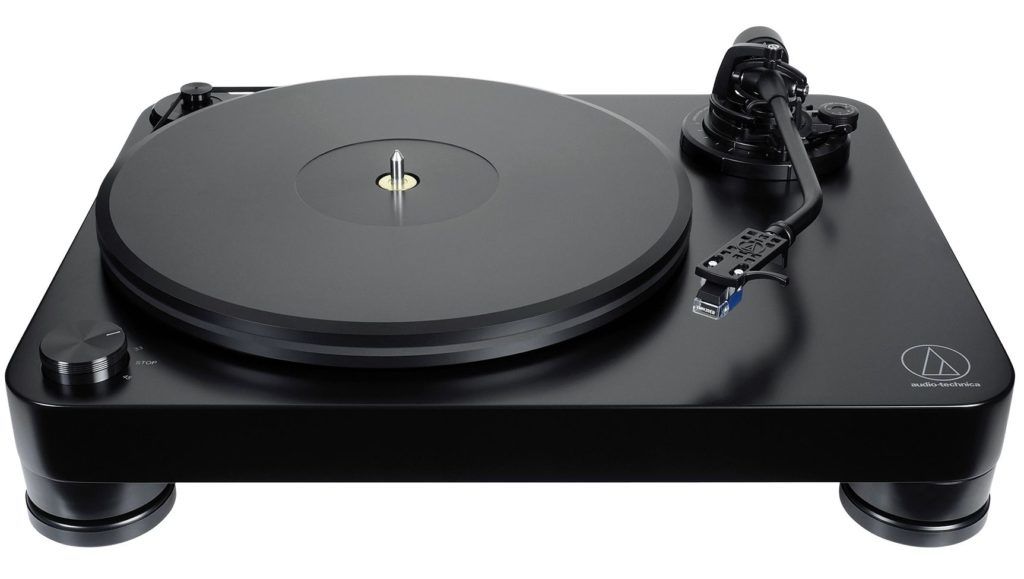 Pros
Built-in pre-amp
Runs nearly inaudibly
Audio quality is essentially flawless
Cons
Even for a mid-range turntable, it is on the higher side in terms of price
The cover is not hinged
Audio-Technica is a company well-versed when it comes to the art of audio. The AT-LP7 comes in all black and shows us what a record player would look like if it was owned by Batman. This one is fully manual, so it is important that you know exactly how to set and lift a tonearm.
It has two speeds, without 78RPM making a cameo. I was a little irked by the absence of that considering the price tag this carries. This may not be a feature utilized by many, but it would have been nice to have it regardless.
There's a built-in phono pre-amp here. So you'll be able to take in its music regardless of the sound system you use. Before you can take in the music though, you'll need to take off the dust cover. This unfortunately neglects to incorporate a hinge. Then you must manually set the arm down. If you change enough records, this becomes a significantly annoying inconvenience.
When you plug and play this record player, you get audio reproduction which is like hot cocoa-rich and warm. Even though its audio performance is exceptional around the board, it's the bass work that truly won me over.
Yamaha TT-S303
Pros
Relatively inexpensive
Built-in phono stage
Operates silently
Cons
Setting up the tonearm can be minorly annoying
Perhaps the most striking thing regarding the Yamaha TT-S303 record player is the glossy jet-black finish it carries. It doesn't opt for minimalism in its design, yet achieves just as sophisticated an appearance.
Yamaha opts for an Audio-Technica cartridge, which is never a poor choice. In fact, with this record player, you'll realize you're a far way off from a poor choice. The sound makes it well worth it.
The turntable is built to stay steady and will play a record without a hiccup. This is even as individuals walk around and around it. The sound is spacious and you can perceive the layers in it. The depth that each individual instrument adds to the records can be heard clearly.
The instructions don't elaborate extensively on setting up the tonearm. It is likely that you may experience a few minor annoyances in the process. Other than that, setting up is a breeze.
Music Hall – Classic Turntable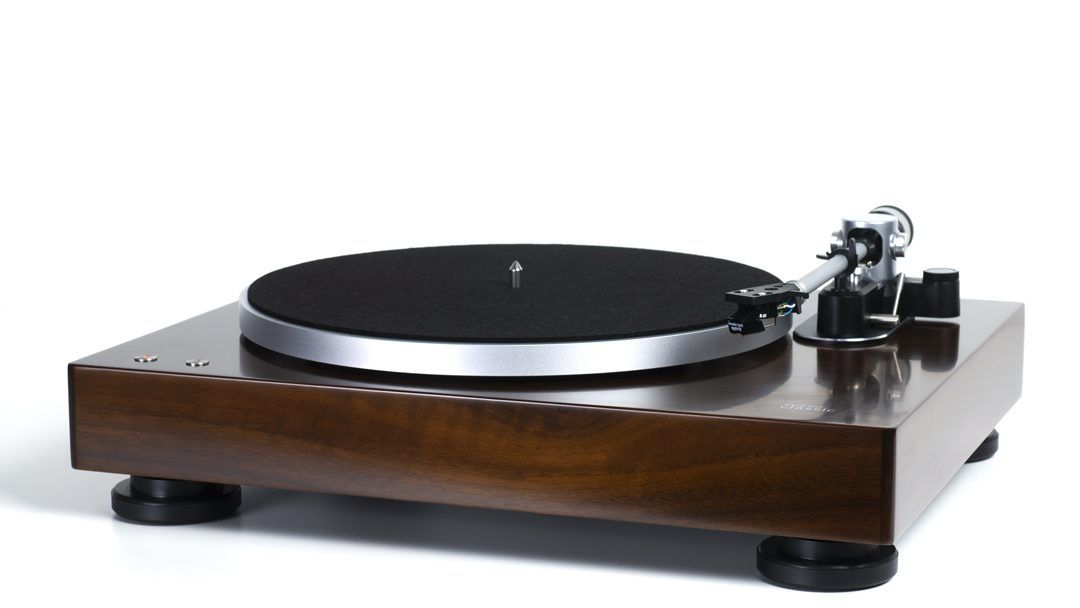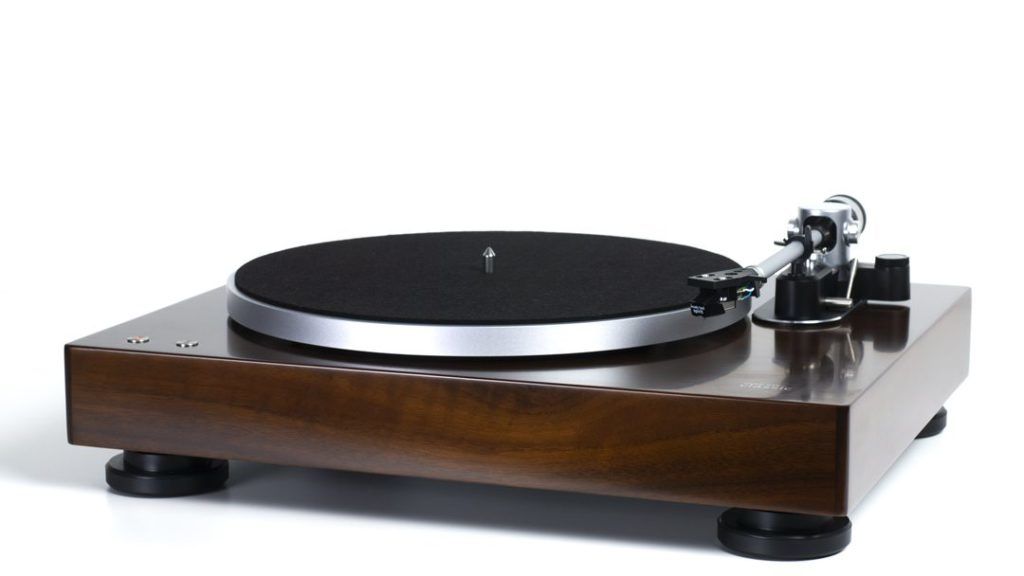 Pros
Vintage aesthetic is a winner
Semi-automatic functionality makes it easy to sleep off to its music.
Price is reasonable for a mid-range turntable
Cons
Rather susceptible to external vibrations
Lower frequencies don't sound entirely natural
Before the CD came along, vinyl was a king and its throne was never up for dispute. Many vinyl enthusiasts grew up around record players. To have a turntable that attempts the vintage appearance is appreciated by us.
Despite trying to look the most antiquated of all the record players on the list, this one is the most modern. This Classic Turntable is a semi-automatic, so you get the best of both worlds between a manual and auto. Set-up for this is easy to understand and even easier to perform. Regardless of whether you're new t the vinyl game or not, you shouldn't have too rough a time putting this together.
Music Hall opts for a cartridge of their own here. My first impression when the sound came out was 'full'. The lower frequencies are a little thick – being the mids and the lows. It's as if the modernity of this system has stretched to the bass-heavy music tastes of the current generation. Higher frequencies are somewhat airy but generally good.
If that sounds like your taste in sound though, you simply need to plug in speakers and listen away. There's a built-in phono stage that will save you money on getting a separate one.
Conlusion
Mid-range turntables will typically set you back anywhere from $400 to $800. Though, some great value finds can be gotten below that price. The current market for vinyl allows for high-quality record players to pass at a mid-range price. I will always be thankful for that. The turntables on this list will provide you with great sound and few reservations.